Infrared Electrical Services
The Infrared Electrical System Survey locates problems before they lead to an unscheduled outage, equipment damage, or a fire. The survey allows for inspection of a large amount of equipment in a short time as opposed to the other method of physically inspecting and tightening components. The infrared survey locates faulty items not generally found during a physical inspection.
Pinpoint Hot Spots In Electrical Systems
Reduces Down Time
Pro-Active Approach, Avoid Unscheduled Maintenance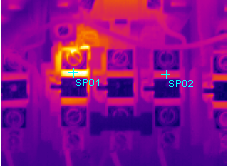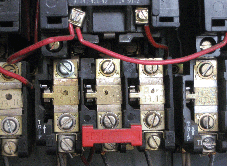 "A" phase of mag for an exhaust fan overheating. Prolonged overheating could cause
equipment failure and damage.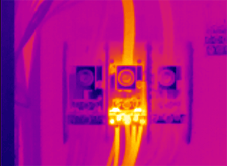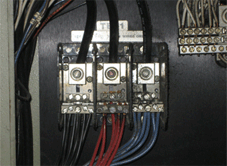 An example of the "B" phase overheating. Prolonged overheating can lead to catastrophic
damage, including fire and equipment damage.
Should You Be Doing Electrical Preventive Maintenance? You Bet!
Question: "Why would I need to do electrical preventive maintenance – nothing moves, what could go wrong?
Answer: A great deal can go wrong if an electrical system is not adequately maintained. As electrical loads cycle between high and low demand, thermal expansion and contraction cause connections to loosen. Electrical panels that are never cleaned accumulate dust and dirt that deposit on these connections. The loose and dirty connections provide high resistance paths that are directly responsible for more than 30% of electrical failures. Another 17% of electrical failures are attributed to live electrical components being exposed to moisture.
Question: Do your panels or other electrical equipment look like this?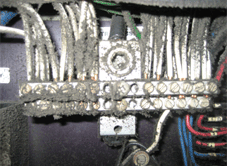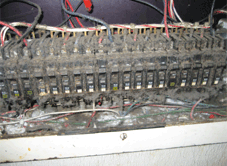 Top Causes of Electrical System Failure: (Failures based on Hartford Steam Boiler Claims Data)
| | |
| --- | --- |
| Loose connections / parts | 30.3% |
| Moisture | 17.4% |
| Line Disturbance | 10.4% |
| Defective / inadequate insulation | 9.9% |
According to the Institute of Electrical and Electronics Engineers (IEEE), the failure rate of electrical components is THREE times higher for systems where preventive maintenance is not performed. This tells us that electrical failures, for the most part, can be avoided. Ask us how we can tailor a plan just for you!